Please limit one question/topic per post.
Please provide the following details depending on types of question
▼ For question regarding Editor, please provide:
- Live2D Software Version: (e.g. Cubism Editor 3.1.02, Euclid Editor 1.2.02)
- OS & Version: (e.g. Windows 10, macOS HighSierra)
- PC Model: (e.g. MacBookPro 2017)
- Graphics Specifications: (e.g. GeForce GTX 950M)
- Memory: (e.g. 8GB)
- Illustration Software used: (e.g. Photoshop, ClipStudio, SAI)
- Attach screenshot or capture video to show your problem:
---------------------------
▼ For question regarding SDK, please provide:
- For us to reproduce the issue you wish to inquire about, please provide either a minimum project file which has the issue. or specific instructions on how to reproduce the issue.
- Types and version of Cubism SDK you are using.
---------------------------
▼ For question regarding Cubism Software License,
For issues related to purchasing, your order, license key, and subscription, please contact us via contact form:
https://www.live2d.jp/eng/contact/
Modeling 101: Clipping Mask
so
@safrongo
asked how to use clipping mask in the
Layering thread
, and because it's relatively simple, i thought i'd post a quick comment to clarify it
How to Create a Clipping Mask:
in the Editor, every Drawable Object has an ID that is displayed in the [Edit] pallet
the way you make this part the Parent Object (the object that does the clipping), is to copy this ID, or manually write it, into the Clip ID box of the part you want to have clipped.
generally, the parent is a bigger object. Such as the white part of the eye (sclera) with the pupils and shiny parts on top of it, or the main part of the hair with a smaller highlight layer on it.
in the example below, the character has two pupils, the left is unclipped, and the right is clipped according to the sclera shape.
the pupil ID is D_PSD.16
the sclera ID is D_PSD.05
i copied the sclera ID to the pupil, not the opposite!
if somehow the clipping is not working for you, make sure you have the bigger object in the Clip ID value, otherwise it could be hiding behind the smaller object!
how to remove the clipping effect:
erase the Clip ID value from the box, or click the red box next to it
here is another thing you can do with clipping mask: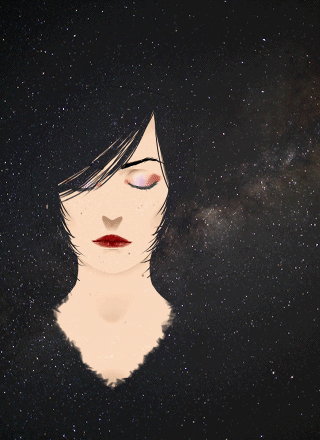 have fun!