[About macOS Ventura 13.0] (12/20/2022)
The currently released Live2D Cubism SDK is not guaranteed to work with macOS Ventura.
Please refrain from upgrading the macOS as they may not work properly.
The Cubism Editor license file may be lost after the macOS upgrade.
Please make sure to deactivate the Cubism Editor license before upgrading the macOS.
For more details
[NOTICE]
About the support for Mac models
Cubism Editor is not supported with Apple M1 processors.
Please refer to
System Requirements
for details.
We will not respond to any related inquiries with this message.
Live2D Cubism Editor Not Opening Properly on Mac (No M1 Chip)
Hello! I was wondering if anyone can help. I wanted to download Live2D onto my macbook. There was the initial problem of the OS not opening the installer but I used the right-click and then open option to get around this. The program seemingly downloaded fine but when I tried to open it all the notices and most of the program's text showed up in question mark boxes. I thought it was a language issue but there are some parts of the program that are still English (e.g. the Model and Edit Level), and also I was never given the option to select a language during the installation process. After pausing on the attached screen for some time the program will force shut down on it's own.
Mac Specs/Screenshot:
- Live2D Software Version: 4.2.00
- OS & Version: macOS Monterey 12.6
- Mac Model: MacBook Air (Retina, 13-inch, 2019)
- Graphics Specifications: Intel UHD Graphics 617 1536 MB
- Processor: 1.6 Ghz-Dual-Core Intel Core i5
- Memory: 8GB
- Screenshot Attached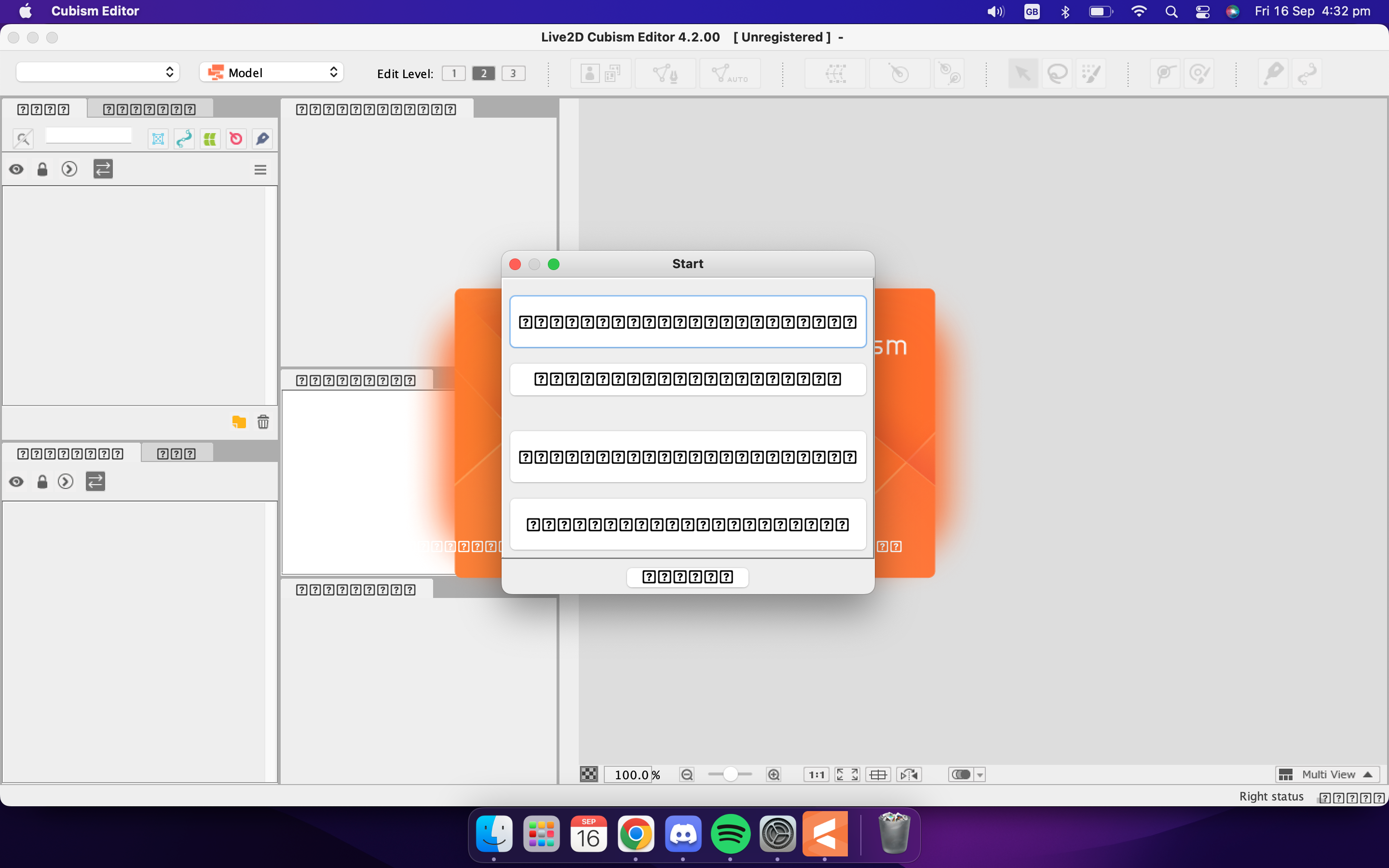 Tagged: