"[NOTICE]" About the support for Mac models
Cubism Editor is not supported with Apple M1 processors.
Please refer to
System Requirements
for details.
We will not respond to any related inquiries with this message.
Please note that Cubism SDK is not supported with Apple M1 processors and macOS 11.0 Big Sur.
Can't Save Due to Error
I've seen a similar post on this but it hasn't helped at all. Basically I think it has to do with the psd files I import but I'm not 100% sure. I'm brand new to all this so go easy on me!
Basically I can import just fine, use the program just fine. No issues there. I use Krita and save as a PSD. The file type has always been a non issue in any other programs reading psd's so I don't think there's an issue there. I import this file to Live2D so I can work with everything pre-set up.
However when I save, or periodically when it attempts to backup, I get an error.
Backup error looks like this:

And regular save looks like this: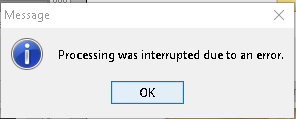 I can export to .moc with no issues, and the .moc loads up in the viewer perfectly. It's just saving so that I can keep my progress. Any ideas what's going on?